Brandy Carr Road, Kirkhamgate, Wakefield. WF2 0RJ

The Mission of Lindale Methodist Church is to respond to the good news, revealed in the gospel message of God's love, through worship, fellowship and outreach by serving the local community and beyond as Holy Spirit-led disciples and followers of the teaching and example of Jesus Christ.
Services:
Sunday Family Worship (10.30 am). No Sunday Junior Church.
Informal Worship (10.30am) on the first and third Sundays each month.
Weekly Sunday evening services are no longer held but, usually, there will be a Prayer Service on the last Sunday of each month at 6pm.
Holy Communion held at least once each month.
Baptisms usually held as part of Sunday service.
Afternoon joint Remembrance Service held with village Community Association each year.
Activities:
Tuesday - Women's Institute (Third Tuesday evening, each month 7.30pm)
Wednesday - Searchers' Group (Second Wednesday of the month at 6.45pm). Bible discussion.
Thursday – Church Fellowship with invited speakers, games, crafts or a meal. (Third Thursday evening, usually at 6.30pm, each month, but meeting at 2pm during the winter months)
Saturday – Open Door Coffee Morning (First Saturday, each month, 10am to 11.30am)
General Information:
Lindale is located on the north side of Wakefield on Brandy Carr Road, Kirkhamgate. The Village Community Centre is located next door and the Junior and Infant school directly across the road. The School occasionally holds events in the church.

Minister:
Revd Robert Drost
Telephone : 01924 373287
Email: rob.drost@mail.com

(Photo to follow)


Services in March 2018
Sunday 25 10.30am Mr Matt Burland (Palm Sunday)
6pm Rev Hugh McKee (Prayer Service)
Joint Holy Week Services (for the local cluster of churches):
Monday 26 7pm St Paul's Church, Alverthorpe, led by Rev Stuart Millington
Tuesday 27 7pm Lindale Methodist Church, led by Rev Rob Drost
Wednesday 28 7pm Wrenthorpe Methodist Church, led by Rev Rob Drost
Thursday 29 7pm St Anne's Church, Wrenthorpe, led by Rev Jo Kershaw (Communion)
7pm The Mission, Wrenthorpe, led by Rev Christian Gale
Friday 30 1.45pm Reflective service at St Anne's Church, Wrenthorpe
2.30pm Joint service on The Green, Wrenthorpe, with all four clergy
Services in April2018
Sunday 1 10.30am Rev Rob Drost (Communion)
Sunday 8 10.30am Local Arrangement
Sunday 15 10.30am Miss Heather Emms
Sunday 22 10.30am Mr Peter Finneran
Sunday 29 10.30am Rev Rob Drost
SPECIAL EVENTS:
Our next concert will be held on Friday 27 April at 7.30pm. For those who love popular musicals, signature tunes, evocative film scores, folk songs and country dances, here is a chance to hear a wide-ranging repertoire performed by the Chris Irvin Concert Orchestra. Christopher Irvin and many of the orchestra have been working together for more than six years, sharing an affection for popular tunes of today and yesterday, aiming to provide variety and entertainment, revive happy memories and spring a few surprises.
Tickets are £7 each (includes refreshments) and can be obtained from Keith Jones, tel: 01924 366803 or email: k3ithjones@gmail.com

This picture shows the display at the front of the church on the occasion of the Church's 25th anniversary weekend in October 2016: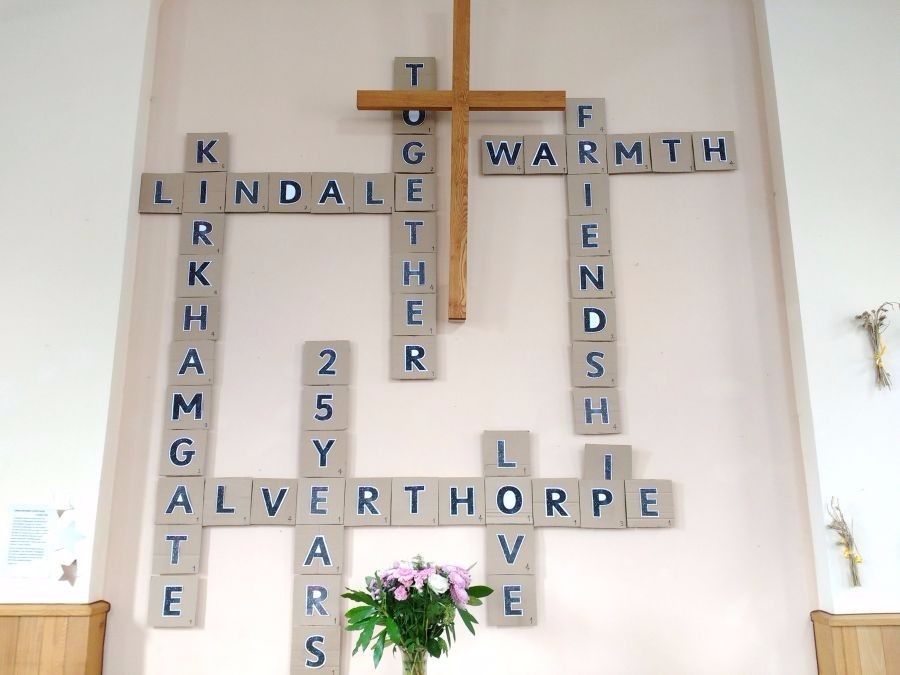 .........and at Christmas we had 2016 silver anniversary stars: